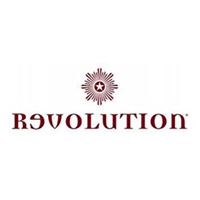 M24Seven provide a high-speed Internet circuit to the bar chain's HQ. It delivers fully symmetric, uncontended bandwidth in accordance with a carrier grade Service Level Agreement.
The Background
Inventive Leisure is the corporate name behind the national chain of Revolution Bars now established on a high street near you. The first Revolution appeared on Oxford Road, Manchester in 1996. Since then a further 62 (at the time of writing!) have opened across the nation. From Aberdeen to Plymouth: Swansea to York; the Revolution logo is now a familiar sign.
Information Technology supports the backbone of the business and has seen a massive transformation since the early days of '96 when IT was a distributed function and the best communications connectivity on offer was ISDN and the Internet was uncharted territory. Today, everything starts with the Intranet and the company's Internet presence is a vital business development tool.
Electronic Point of Sale (EPoS) systems provide real- time analysis of the business over what is effectively a 24-hour working day: some bars being open until 4 a.m. where, by the time staff have cleared and cleaned up, it is hardly worth locking the door on a 6 a.m. delivery. Stock is ordered via sophisticated EDI systems that link Inventive Leisure with its suppliers to ensure that product is always available to meet demand.
The website ranks amongst the most sophisticated you will find anywhere. In addition to the usual background information and contact details revolution-bars.co.uk provides the opportunity to reserve tables, order food, book functions and sign up for a plethora of special offers and incentives. All specific to individual bars with automated confirmations being sent through to branches. No wonder they're so successful.
IT Manager, Marc Dawson, was particularly enthusiastic about how the company was using social networking to maintain relationships; he is acutely aware that technology has moved on from being a business efficiency tool. Free Wi-Fi is prevalent throughout all bars. Marc confirmed, "We were never interested in charging customers for wireless Internet access and so we waited until we had an ISP partner that would support us in providing free access to any customer that wanted it."
Every bar features a working back office equipped with PC's running business apps. Whereas ten years ago virtually all local business data was held on-site, everything is now hosted off-site and the working day is conducted through the Intranet.
As Marc stated:
"IT was always key to the company and I have been given huge opportunities to exploit emerging technologies over time. We started with ISDN, but as soon as ADSL became viable we lapped it up!"
HQ is in Ashton, where the eight strong IT team is based and provides support for all head office staff (60) and in-field employees.
The Challenge
With the arrival of Exchange-based email, provision of site-to-site VPN connectivity and with EDI ordering, payroll, finance, help/support, auditing – all starting at the Intranet – pressure on the head office Internet circuit quickly reached a critical premium.
"90% of what staff do starts at the Intranet. The limited maintenance time window (when bars are shut) means we need as much bandwidth and resource as we can reasonably get."
John Leaver, Network Administrator, was charged with evaluating alternatives to the BT SDSL circuit that was proving inadequate. "We could have gone with an nxSDSL service, but I was concerned about the Service Level Agreement, which committed BT to responding to faults within four to eight hours. We could in theory be without service for a couple of days, which would clearly be unacceptable to the Business", said Mr Leaver.
Marc duly consulted with Inventive Leisure's strategic IT partner – Manchester based JMC IT, which recommended M24seven. Despite not having heard of M24seven before, Dawson trusted the judgement of JMC and decided to act upon the recommendation, "Especially as JMC subscribed to M24seven services for its own use".
The Solution
Marc describes his M24seven service "as doing exactly what it says it does on the tin". But this was not the overriding issue, for as far as he is concerned,
"Service is what matters and I am really impressed with the support that we receive".
Both Marc and John cited the relationship that they have with technical support engineers at M24seven as truly valuable, with immediate access to expertise as needed – no call centres. They also appreciate the notifications they receive regarding support activities that might impact service and that on occasions when it has been necessary, engineers were on site within twenty minutes of their having made a call. Add the honest feedback and explanation following any problem or incident and the case is made for M24seven.
That the M24seven circuit delivers what it should – fully symmetric, uncontended bandwidth in accordance with a carrier grade Service Level Agreement – is clearly not the reason why Inventive Leisure enthusiastically endorse M24seven: after all, if you pay for a commodity, that is what you are entitled to. In closing Marc said:
"The difference between M24seven and our old ISP's is clearly the service and attitude that combine to make M24seven a partner worth doing business with".